As per our previous post, the Trust was asked to help rehome five donkeys, Sarah, Lauren, Ava, Humphrey and Bogart.  See our earlier post here
As we mentioned there was a strong possibility that all the jennies could be pregnant.  Well, we can now confirm that both Sarah and Ava are pregnant, and we are awaiting blood tests for Lauren. 
When  these foals will be born is still unknown.  Sarah may give birth in the next month or so whereas we think Ava is due a little later.  It will be Ava's first pregnancy.  However Sarah we believe has been having foals for a number of years.  This will be her last one!
Sarah will also be very relieved that her current foal, Bogart will be gelded this week together with Lauren's boy Humphrey.  Both mums are well over managing two very boisterous boys so once they are gelded and provided all goes well, we will be weaning them a week or so later.
All the donkeys have had their second tetanus injection and have had a another visit from the farrier.  Sarah in particular has benefited from the farrier visit to correct her previously overgrown hooves.  
And on it goes…..the equine vet dentist is booked soon.  I was very concerned about Sarah's teeth as she was drooling so my local vet came and gave her a quick rasp of her teeth.  She had some very sharp points but no significant ulcers. The equine dentist will have do some more work on her teeth when the others are done.
We still need your help
We have had some incredible donations towards the vet costs of these donkeys.  So far we have raised $1,930 toward the goal of $3,500. We also have two wonderful sponsors who contribute regularly toward the daily costs of these donkeys which includes their hard feed. But we still need your help.
If you are able to donate towards the care of these donkeys , please click here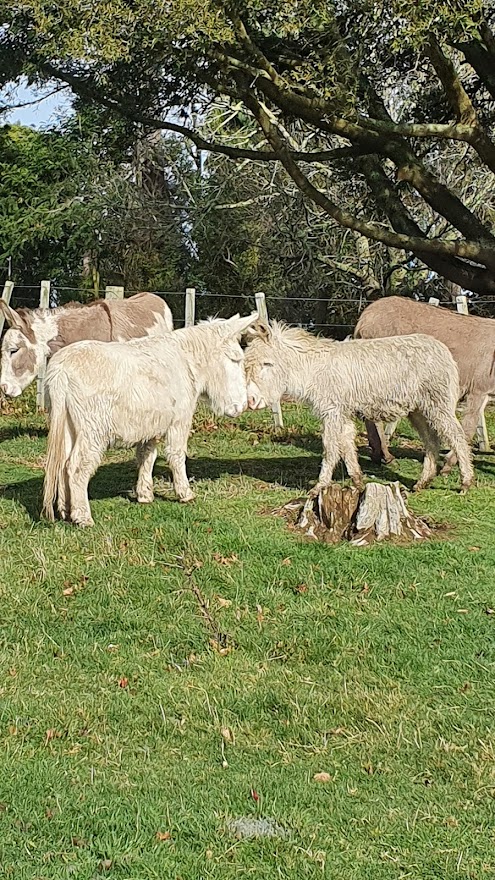 The Newbies were introduced to some permanent residents this week.  Here you can see Oscar meeting his mini-me Humphrey.