When donkeys come under the care of the Trust they are uplifted and relocated to a guardian.  These volunteers agree to take on the care of these donkeys and the Trust raises funds to contribute toward the costs of looking after them. 
In some instances, the donkeys are short term residents until they are rehabilitated and subsequently rehomed.  However other donkeys due to health or behavioural issues are unable to be rehomed and remain permanently under the care of the guardian.
Donkeys under the care of the Trust can incur a range of costs before they can be rehomed, if they can be rehomed at all.  These may include (but not be limited to) vet fees for gelding, dentistry, pregnancy, wounds, x-rays, and treatment for hoof issues. Usually, a farrier is required for frequent and regular trims to correct any hoof deformity. 
Furthermore, a donkey, due to its prior history, may have behavioural issues which might mean the donkey cannot be rehomed immediately.  
Throughout their rehabilitation donkeys require hay, straw and hard feed depending on the age and condition of the donkey, and if a permanent resident, these costs are ongoing for the life of the donkey.
By sponsoring a donkey, you are providing regular support, in the name of your sponsored donkey, to help all donkeys under the financial care of the Trust which is vital for the Trust to continue its work. 
Below are the profiles of donkeys available for sponsorship.  Please select "your" donkey and click to sponsor for $1/day ($30 per month) or another amount.  
The Trust will send a quarterly update to you with news about all sponsored donkeys, including the donkey in whose name you are providing the sponsorship.
All sponsorships are a donation to the Trust and can be claimed as a tax rebate.
Our most recent additions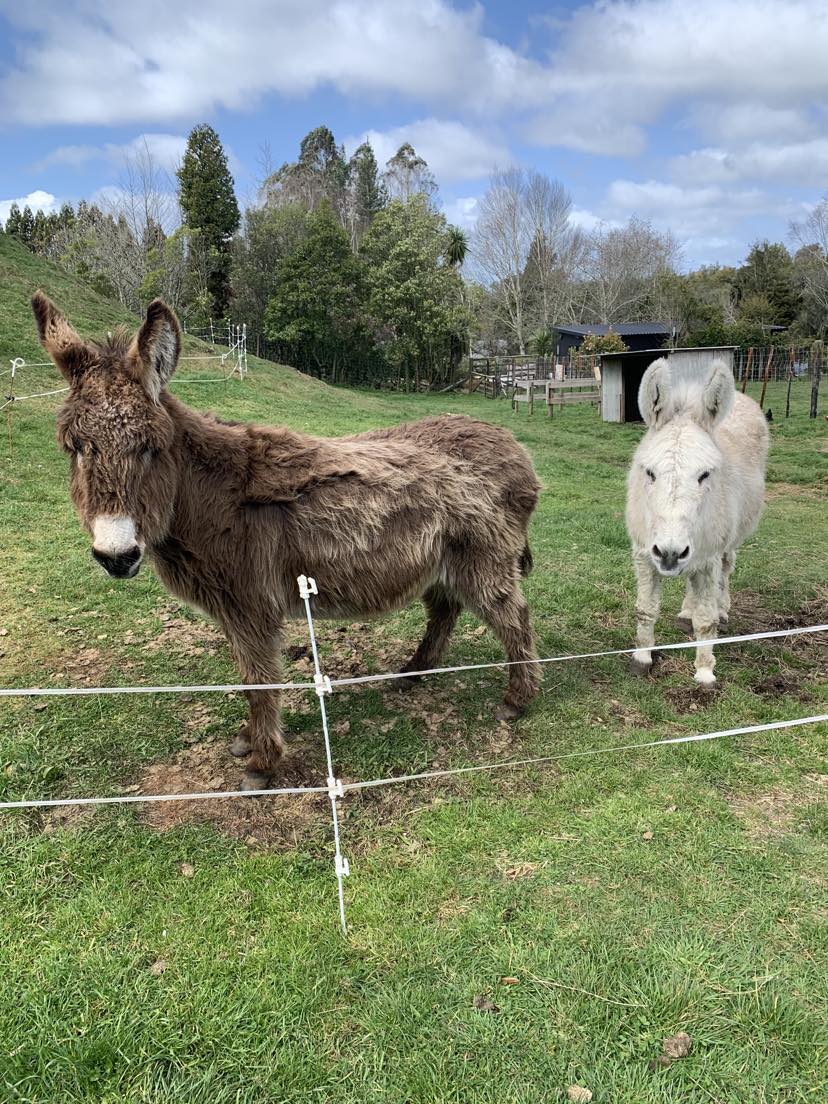 Bessie and Jamie
Location: Rotorua
Residency: Permanent
Bessie and Jamie arrived at the very beginning of September.  Bessie is about 20 years old and Jamie is 12 and a gelding.  They are very bonded.
Unfortunately within two days of arrival, Bessie got colic which can happen when donkeys are moved from their usual surroundings and have a new diet.  The only sign you often get is that they stop eating which is a real risk for donkeys as within hours they can develop a  condition called hyperlipidemia from not eating which can be fatal.  Luckily their guardian realised she had stopped eating and called the vet.  The vet tubed Bessie which is very unpleasant for all.  It was touch and go as to whether it worked but after a sleepless night, Bessie started eating again late the next morning. 
If you would like to sponsor Bessie and Jamie, please complete the form at the bottom of this page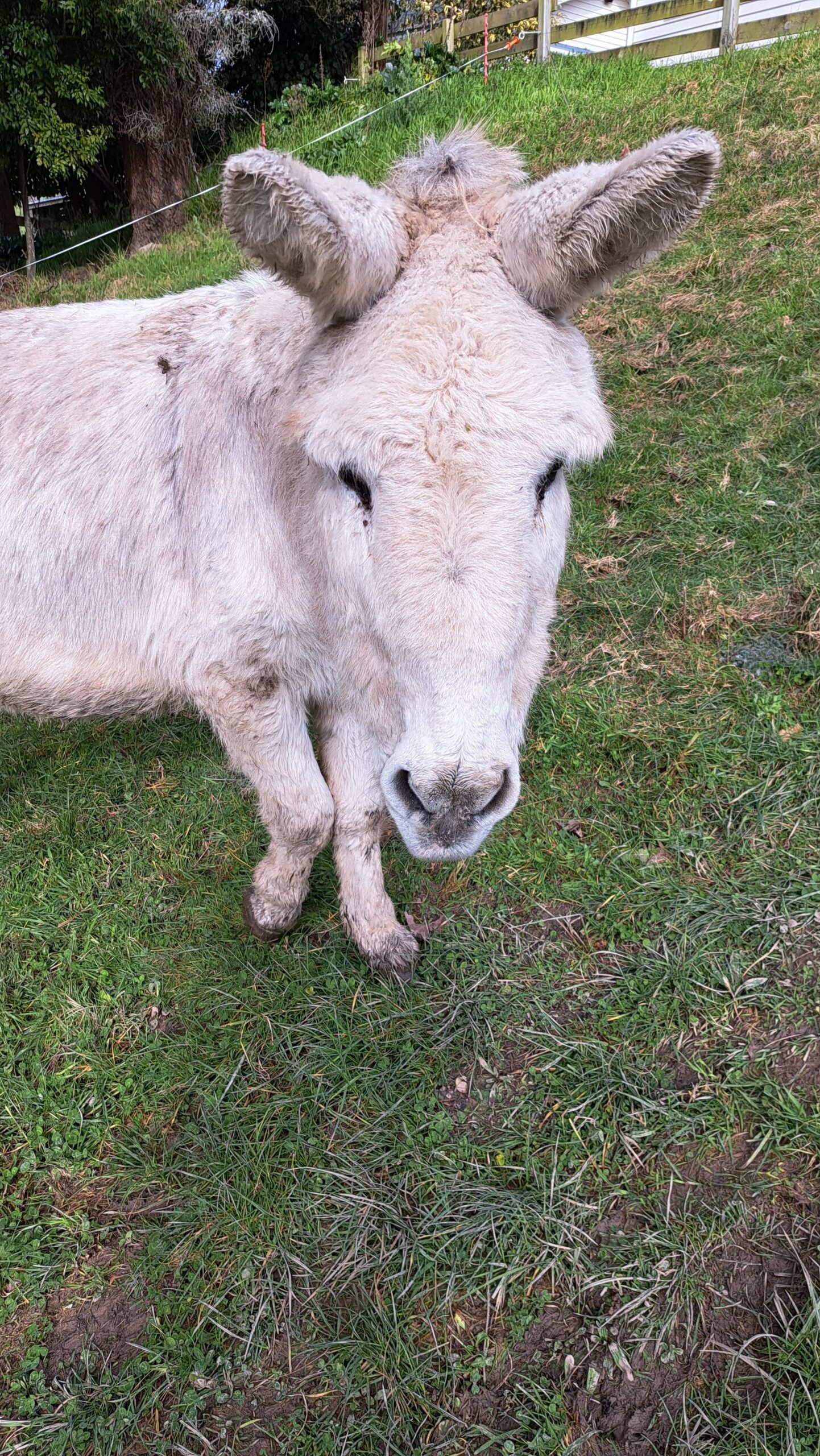 Zeebadee (Zeb)
Location: Wairarapa
Residency: Permanent
Instagram account: zeb_of_the_trust
Zeb is a 30 year old Ponui Island donkey.  He initially came into the care of an earlier Donkey Trust in New Zealand 25 years ago.  The same person has looked after and loved Zeb for all that time.  Two attempts were made to rehome him way back then but neither was successful so his carer decided to keep him with her as she had a number of donkeys and was very involved in the rehoming of donkeys at the time.
As the years have passed Zeb's owner has fewer and fewer donkeys until she only had Zeb and his mate Moses.  Unfortunately Moses became unwell late July 2023 and passed away.  While Zeb had the company of two mules, he no longer had a donkey friend.  After much agonising, his owner decided to rehome Zeb to a Trust guardian nearby who has a number of older donkeys.
Zeb is settling in nicely.  He has hard feed every day which he really enjoys and the company of two geldings about his age plus Artemis who is also a Trust donkey.
If you would like to sponsor Zeb, please complete the form at the bottom of this page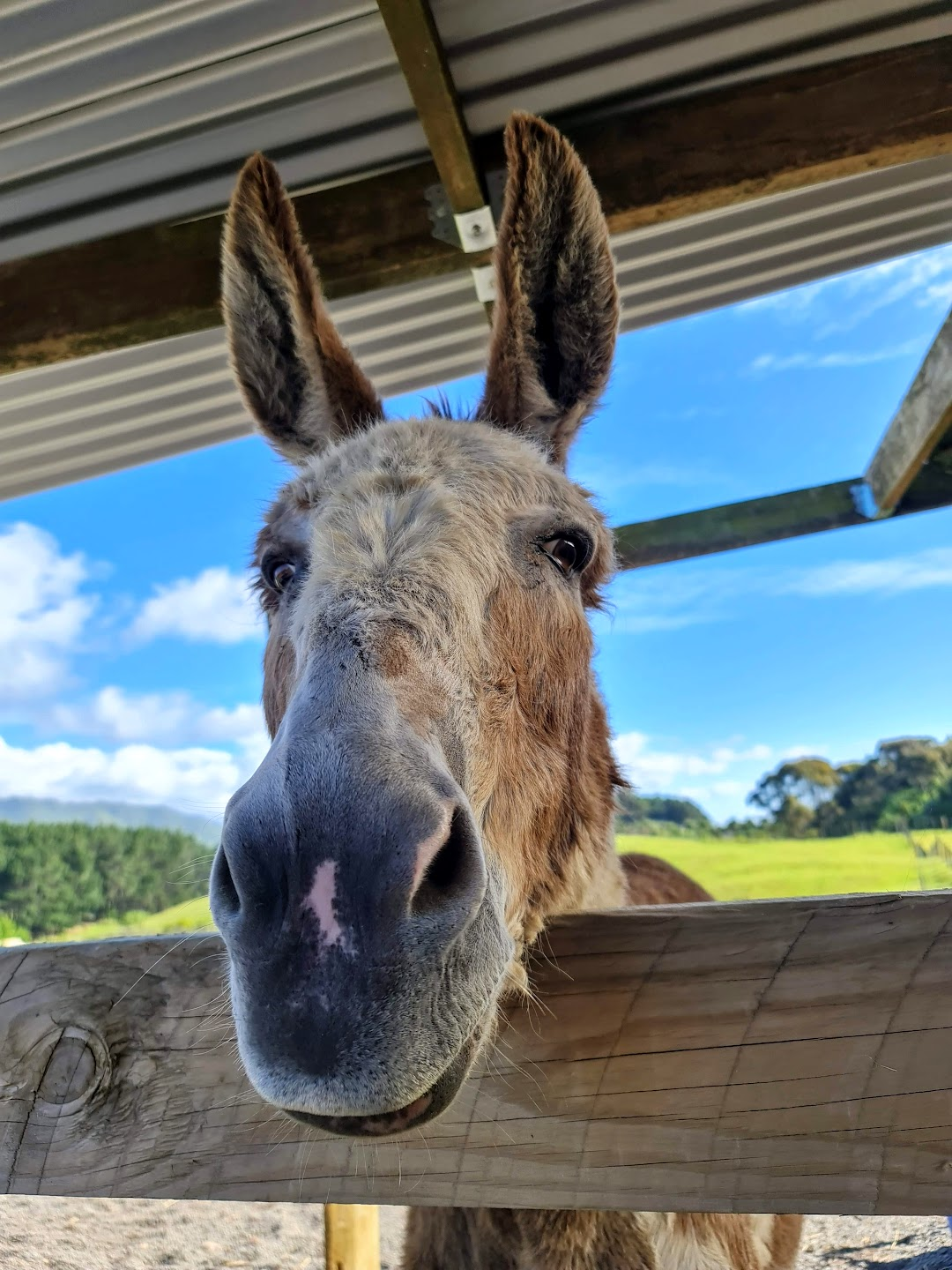 Chesterfield
Location: Kapiti Coast
Residency: Permanent
Instagram account: chesterfield_of_the_trust
Chesterfield is a 30+ year old skewbald gelding that came to reside with one of our guardians in May 2021 for rehab and to be in the company of other donkeys. A retired movie donkey, Chesterfield was overweight with tender feet from lack of exercise and living alone in a small enclosure all day.  Chesterfield has been in a number of movies and television series, the most noted being the Dark Knight series, but has not been involved in movies for some time.
While his owners had covered annual vet checks and dental work in the past, given that he is now too old for further movie work, they decided to relinquish him to the care of the Trust.  Recently Chesterfield developed a severe skin allergy  that caused him to rub his face raw. His eyes streamed and sores developed under his eyes and on the sides of his nose. The vet was called, bloodwork was done as well as a test for PPID, and swabs were taken of his lesions. He was given bute to dull the pain and itchiness, his blisters were treated with a steroid cream and he was injected with ivermectin in the hope that whatever had caused the allergy would be held at bay. Chesterfield has also been receiving daily treatment with a Vetadine wash and zinc cream since and is no longer itching. The lesions have dried and the skin is healing underneath.  His guardian is hopeful that he is on the mend.
The Trust is seeking a sponsor for Chesterfield to support him through his remaining years.
More photos of Chesterfield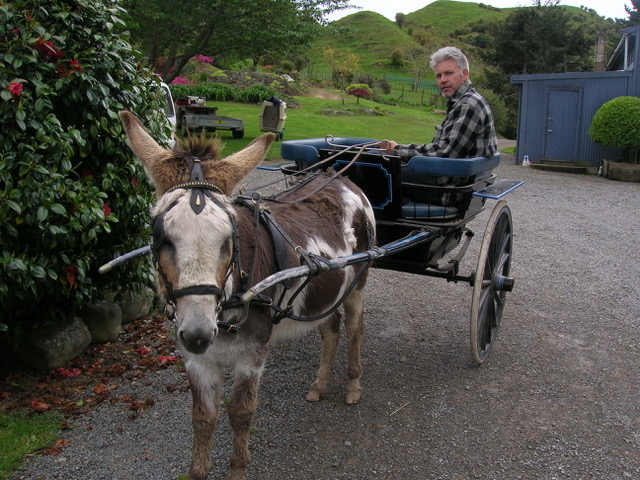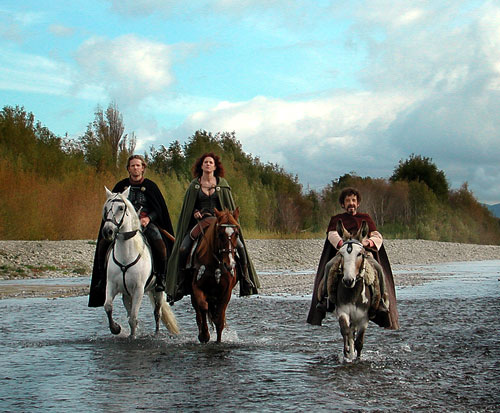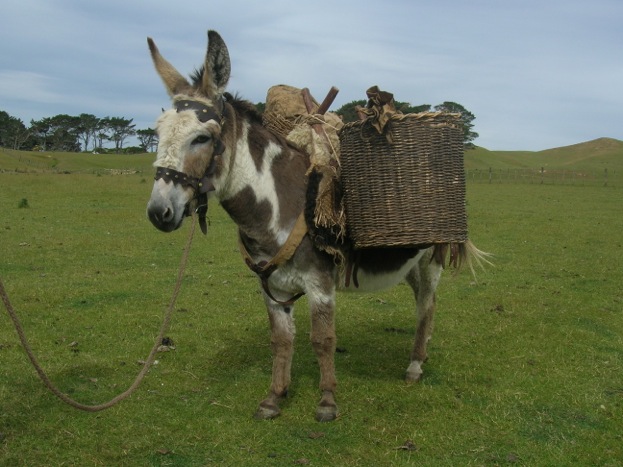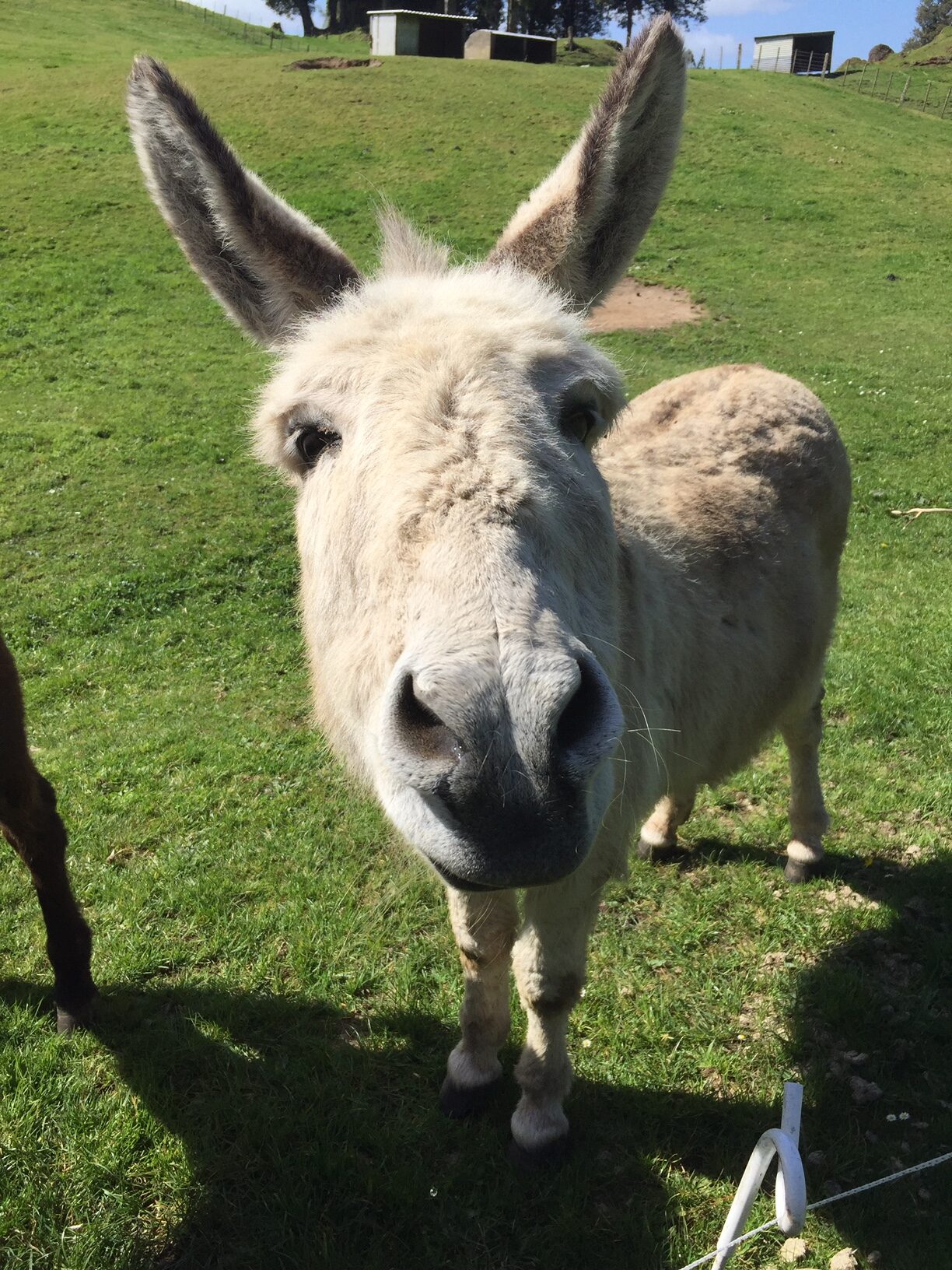 Mintie
Location: Rotorua
Residency: Permanent
Mintie arrived at Mamaku Donkey Sanctuary as an unhandled Ponui jack.  He needed to be gelded and handled.  He eventually was trialled at a new home but regressed to his wild ways so was returned to Mamaku where he has made friends with Weatherby.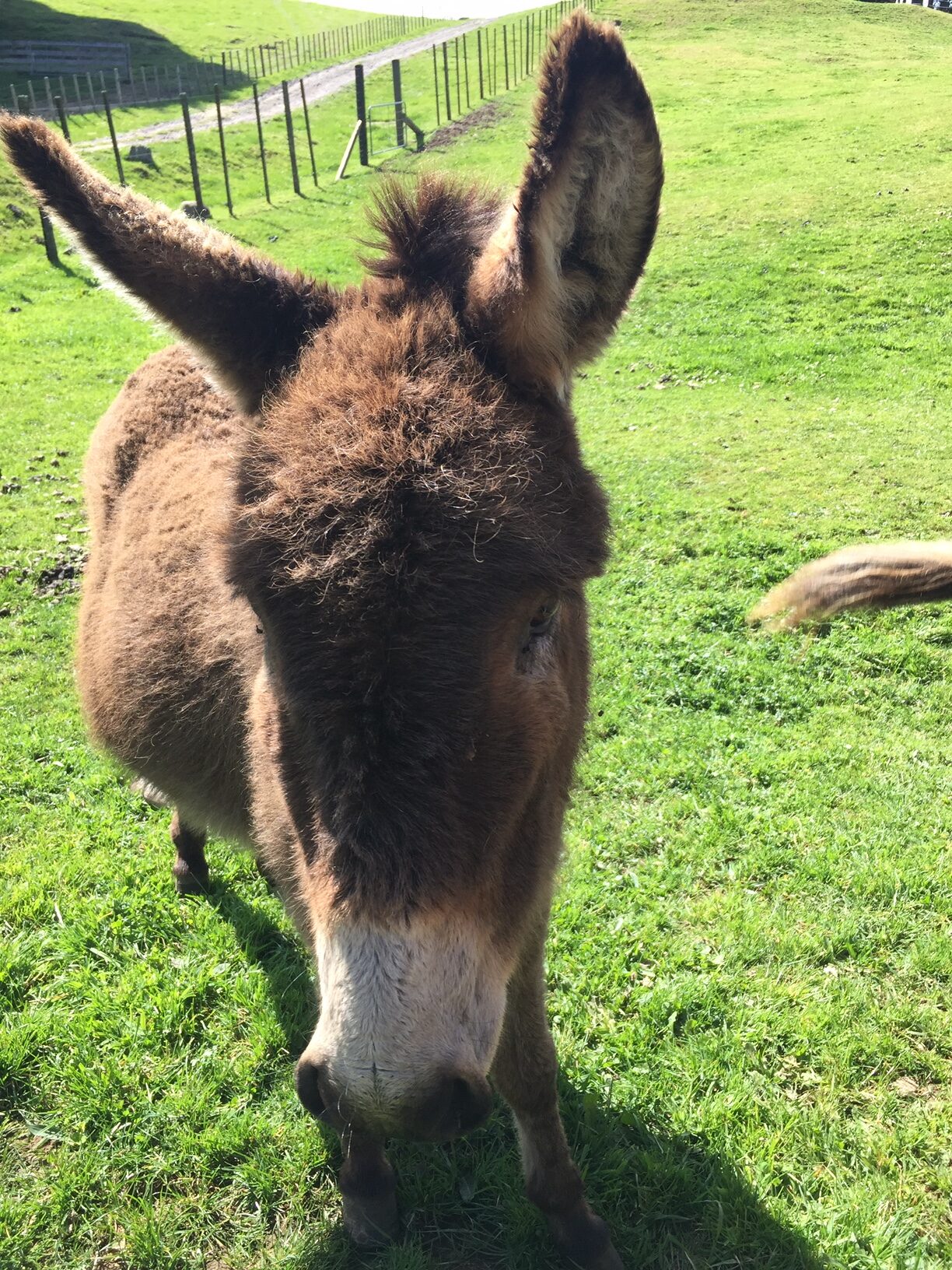 Weatherby
Location: Rotorua
Residency: Permanent
Weatherby's trust issues mean that we cannot rehome him.  The last home he had he ran through fences to escape and ended up with a number of cuts and lacerations.  He is friends with Mintie and no longer wants to escape.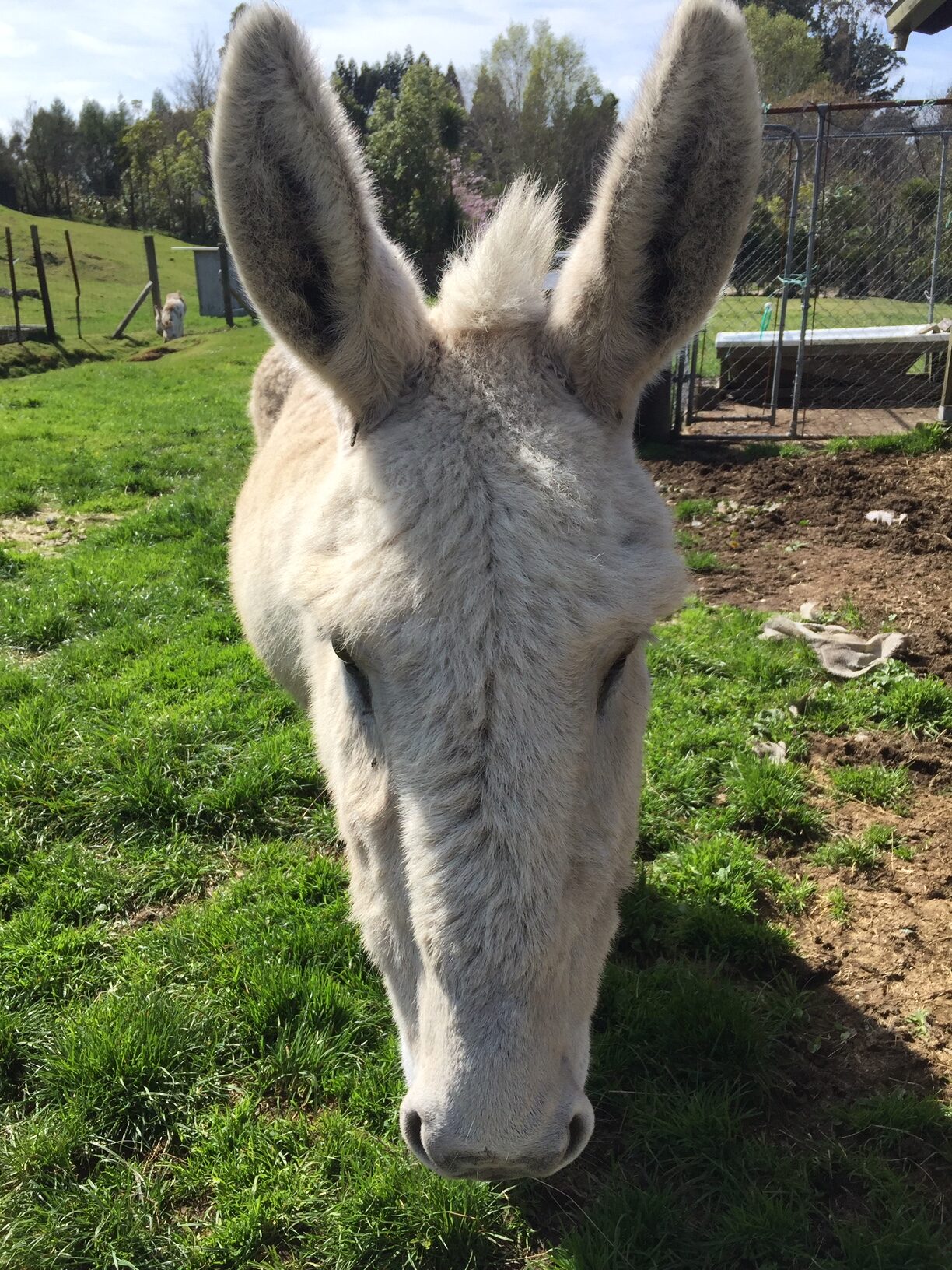 Indi
Location: Rotorua
Residency: Permanent
Indi arrived with her mum Violet as their elderly owner passed away. They had not been handled and suffer from laminitis if not managed carefully.  It is still very difficult to trim Indi's hooves.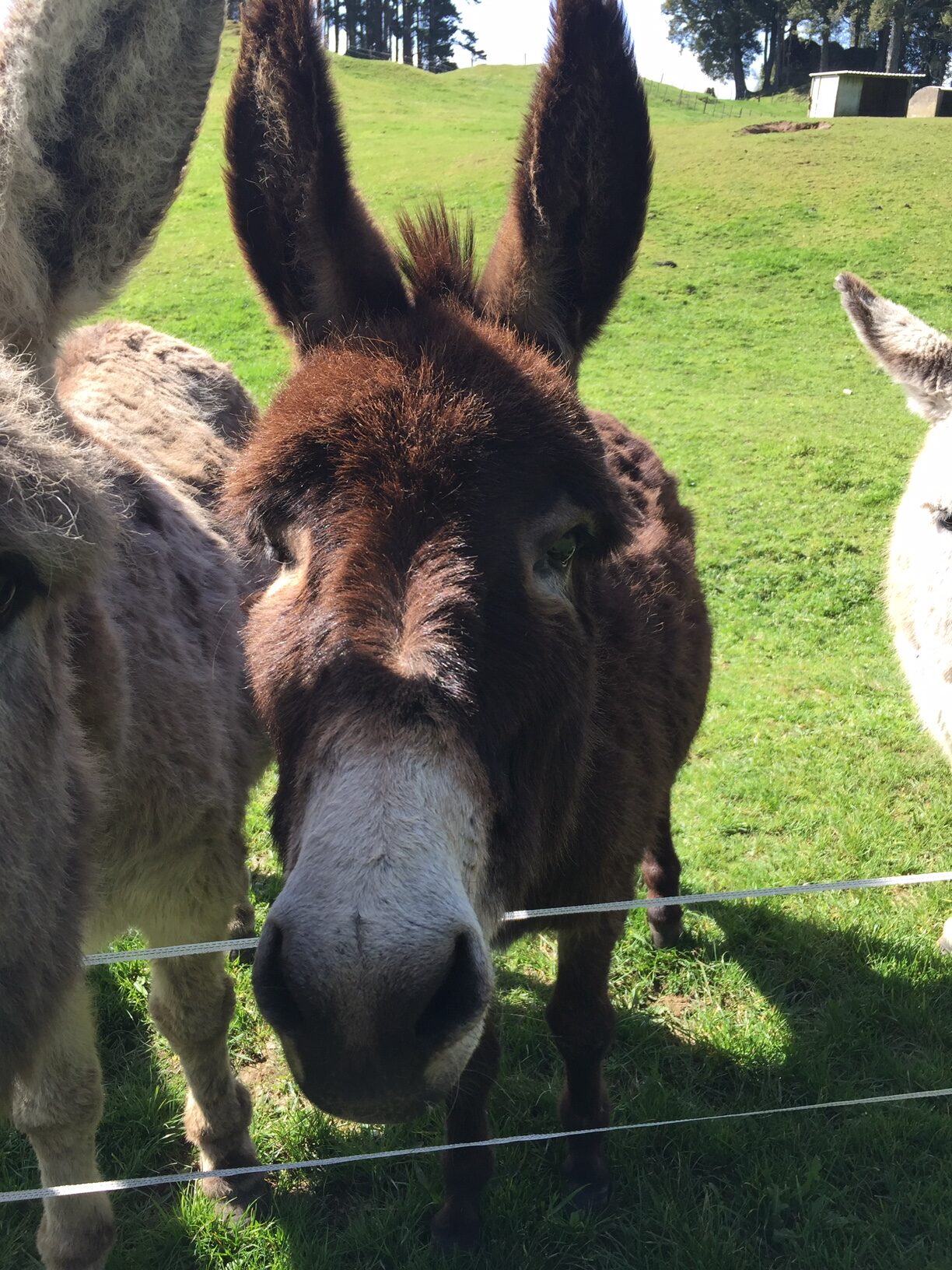 Neddy
Location: Rotorua
Residency: Permanent
Neddy arrived at Mamaku Donkey Sanctuary with signficant trust issues.  He was rehomed together with another donkey he became friendly with but his trust issues resurfaced and he was returned to Mamaku where he will live out his days.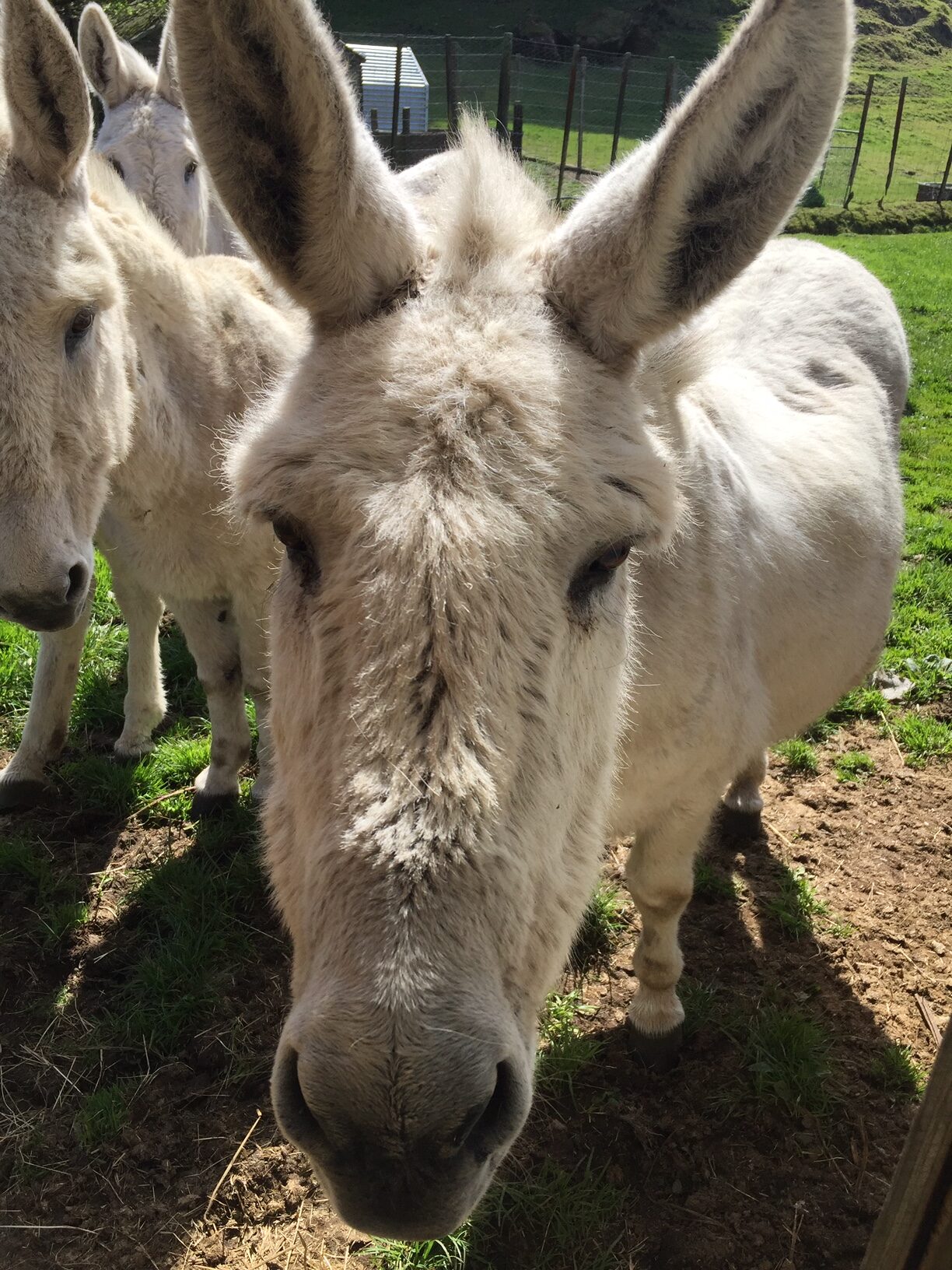 Ester
Location: Rotorua
Residency: Permanent
Ester has weight and hoof issues which made her too difficult for her owner to cope with.  So Ester was surrendered to the care of Mamaku Donkey Sanctuary.  She still battles her weight and hoof issues and recently had a nasty growth removed from her forehead.  She remains upbeat and very interested in dinner.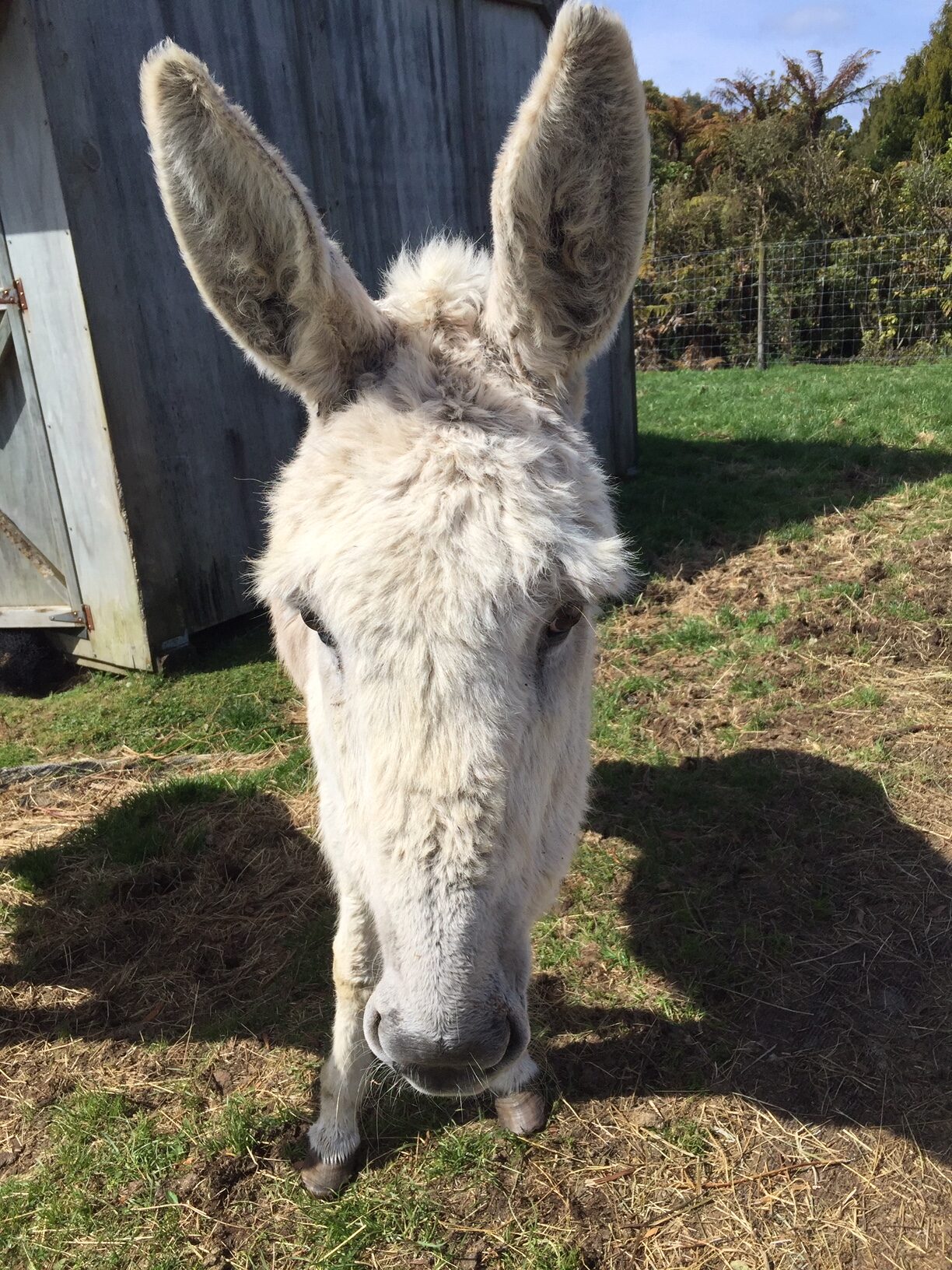 Flo
Location: Rotorua
Residency: Permanant
Dear sweet Duchess Flo was surrendered to Mamaku after having many foals and not being given sufficient care. She has no teeth and therefore requires daily hard feed in order to maintain a healthy weight.  But like many neglected donkeys, she stills loves people despite her previous experiences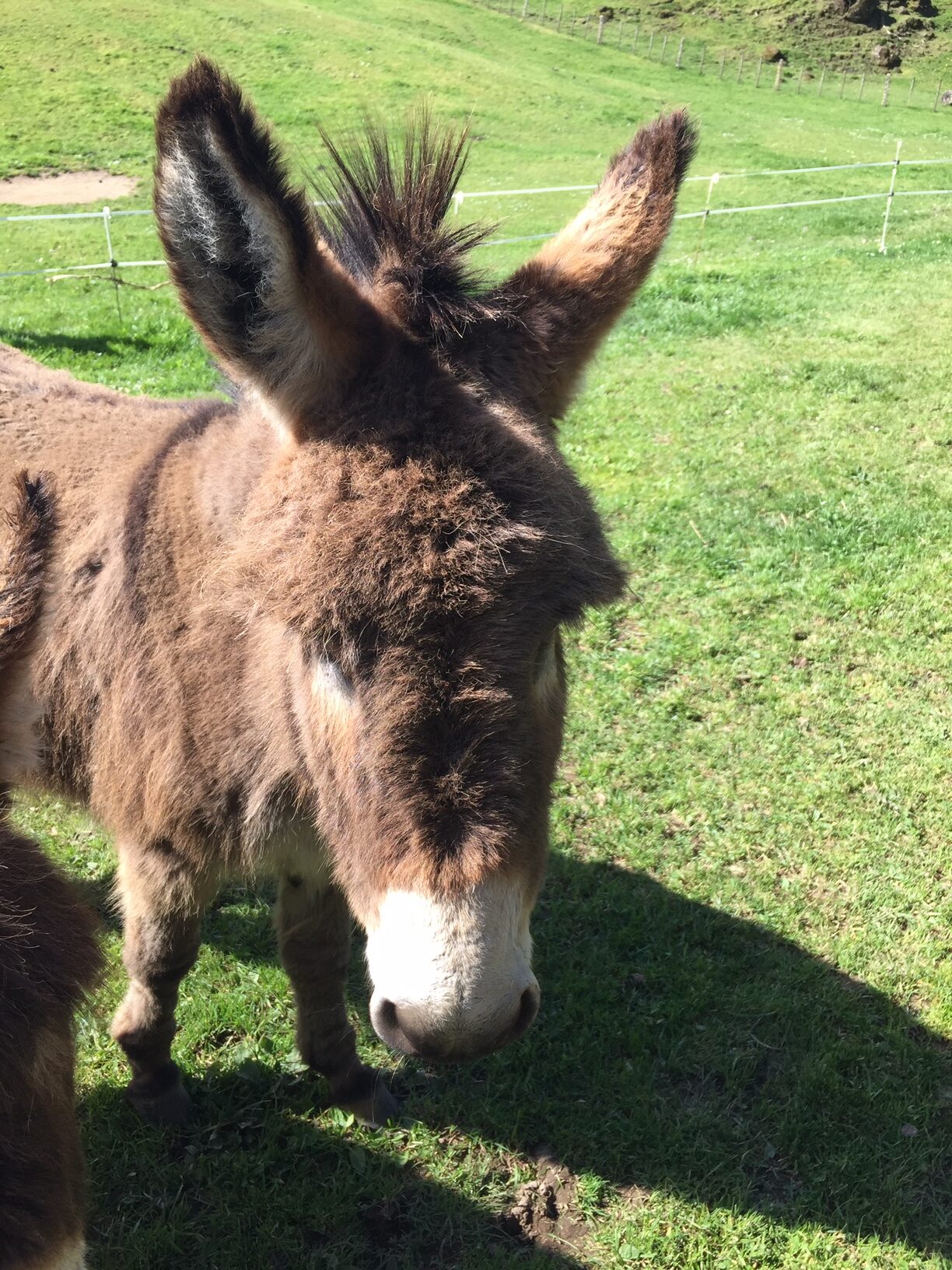 Chester
Location: Rotorua
Residency: Permanent
Chester arrived at Mamaku Donkey Sanctuary when he was very young with his mother, best friend Nibby and three others in his family. His mum died when he was quite young and consequently he became very bonded to Nibby.  As they were so young when they arrived, they were trained to go on visits and parades and are now often out and about promoting the Trust.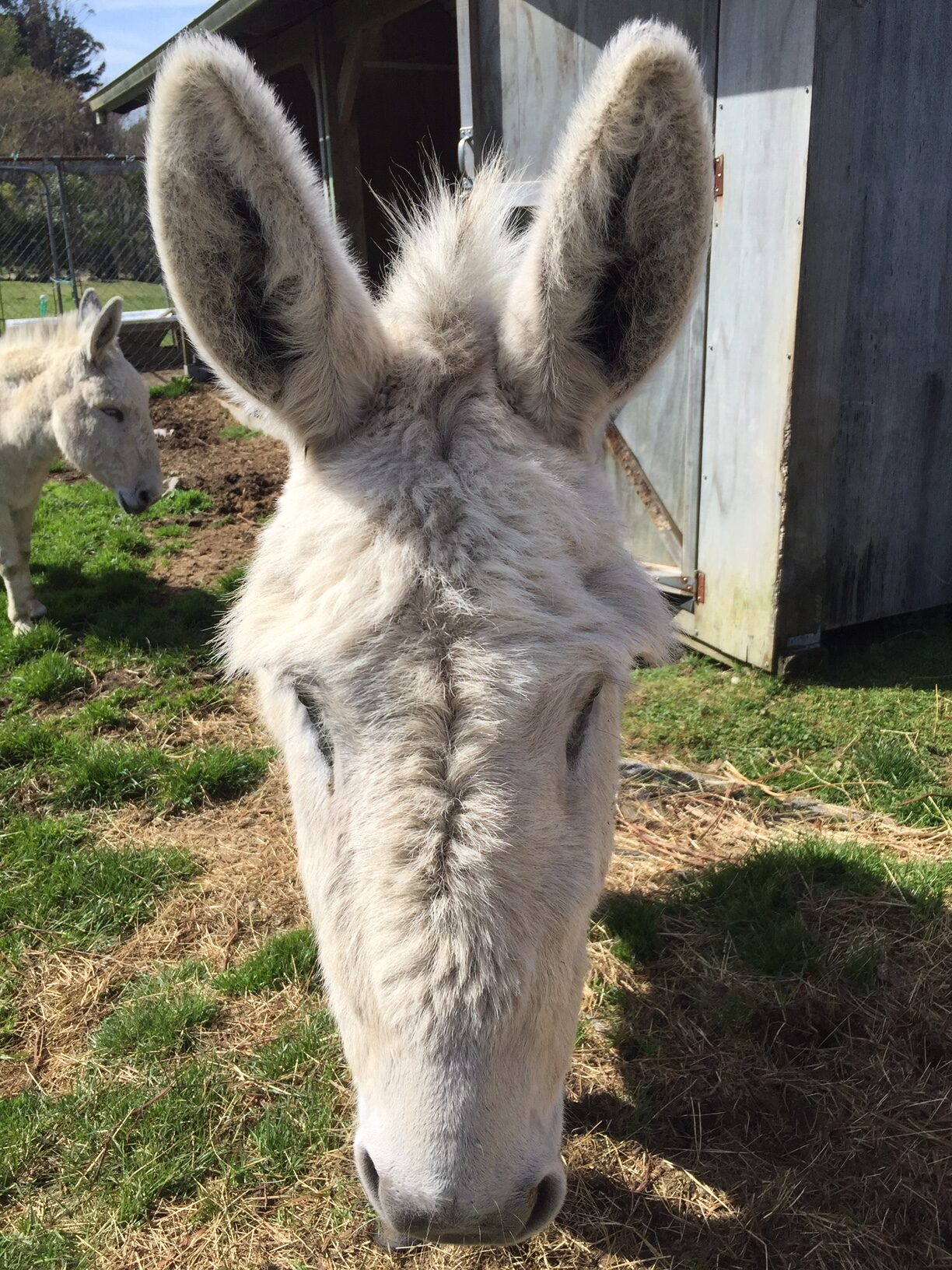 Violet
Location: Rotorua
Residency: Permanent
Violet and her daughter Indi (above) arrived at Mamaku Donkey Santuary.  Due to the age of their past owner they were not handled for a long time and have trust issues along with health concerns.  They went on trial to a new home but had to be returned due to severe laminitis. They will now remain under the expert care at Mamaku.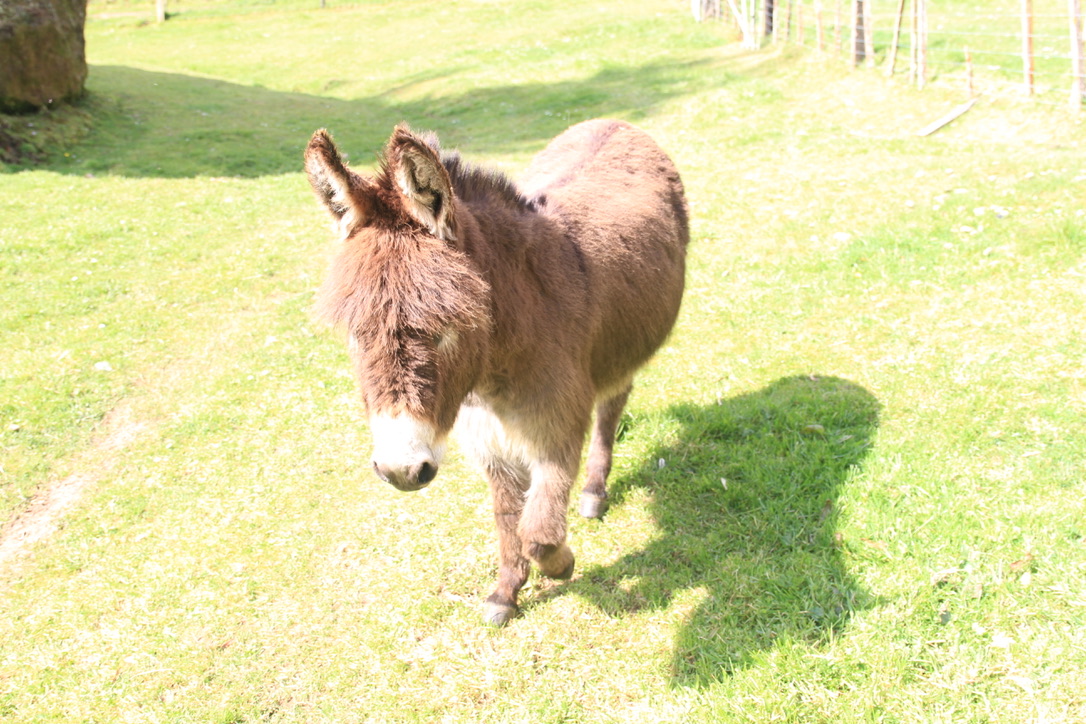 Nibby
Location: Rotorua
Residency: Permanent
Nibby's best friend is Chester (above).  Nibby is a wee tough fella who has to put with a lot from Chester who is taller and plays rough like many geldings.  But they are both great ambassadors of the Trust getting out and about raising awareness.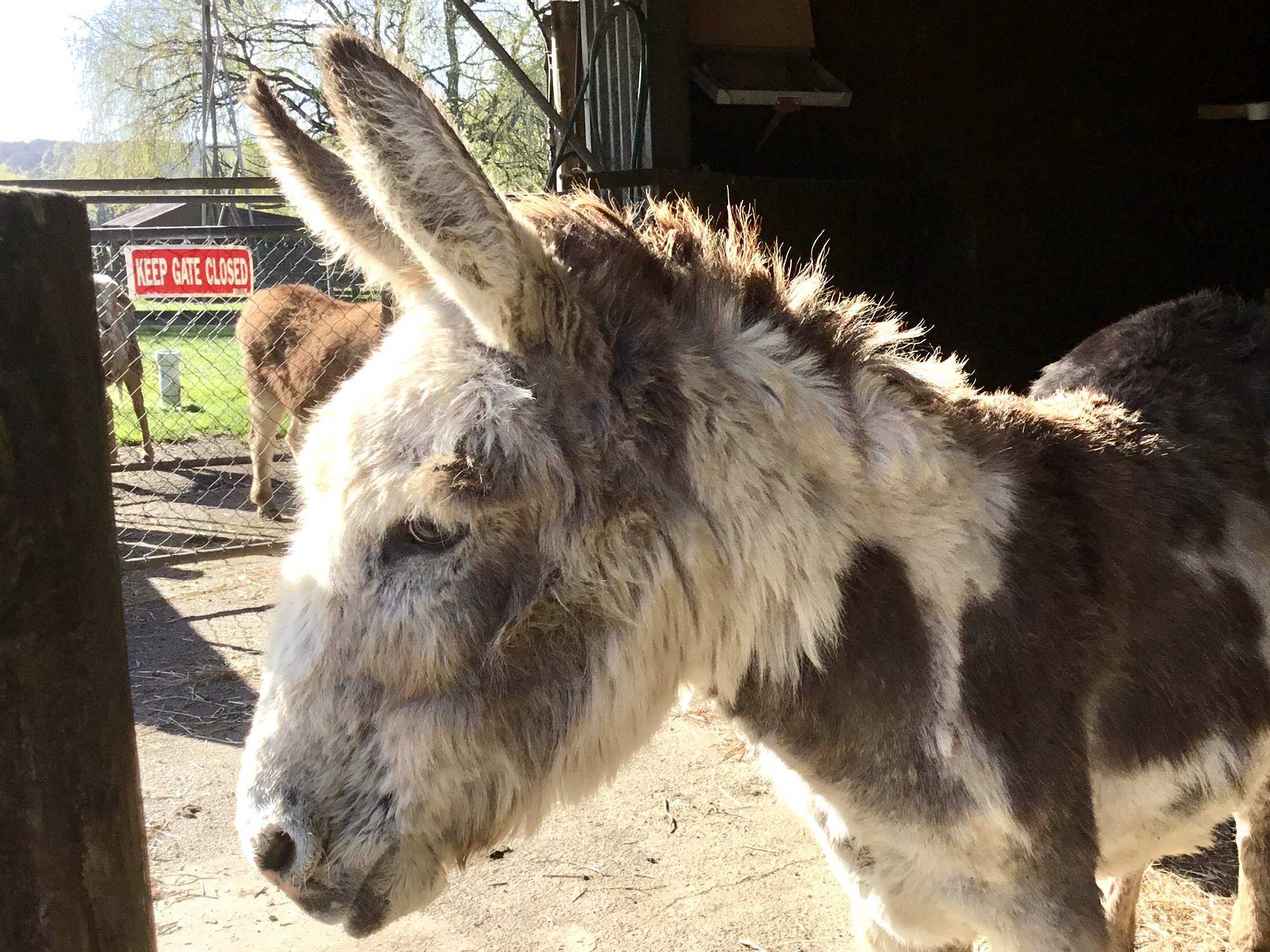 Eve
Location: Rotorua
Residency: Permanent
Eve is 28 years old. She has no top teeth and therefore will require regular hard feed morning and night and access to long grass.
She has been paired up with the lovely Duchess Flo who has no teeth so they can enjoy each other's company while getting hard fed every day.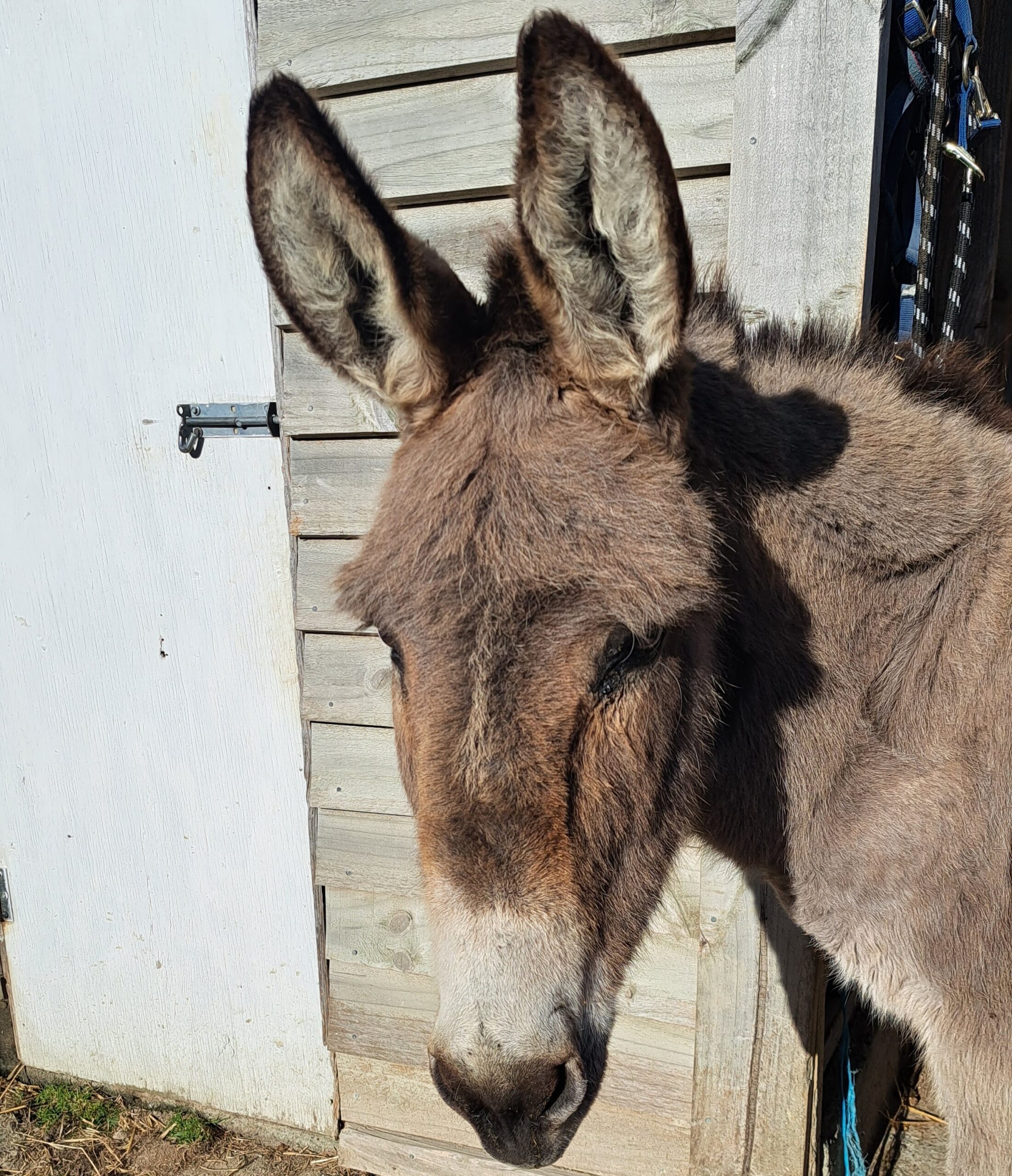 Artemis
Location: Wairarapa
Residency: Permanent
Artemis (Arty) has had severe colic and recurring eye ulcers. But since being diagnosed and treated for PPID, she has gone from strength to strength. Due to her past trauma she will however remain with the Trust  Her colic story can be found here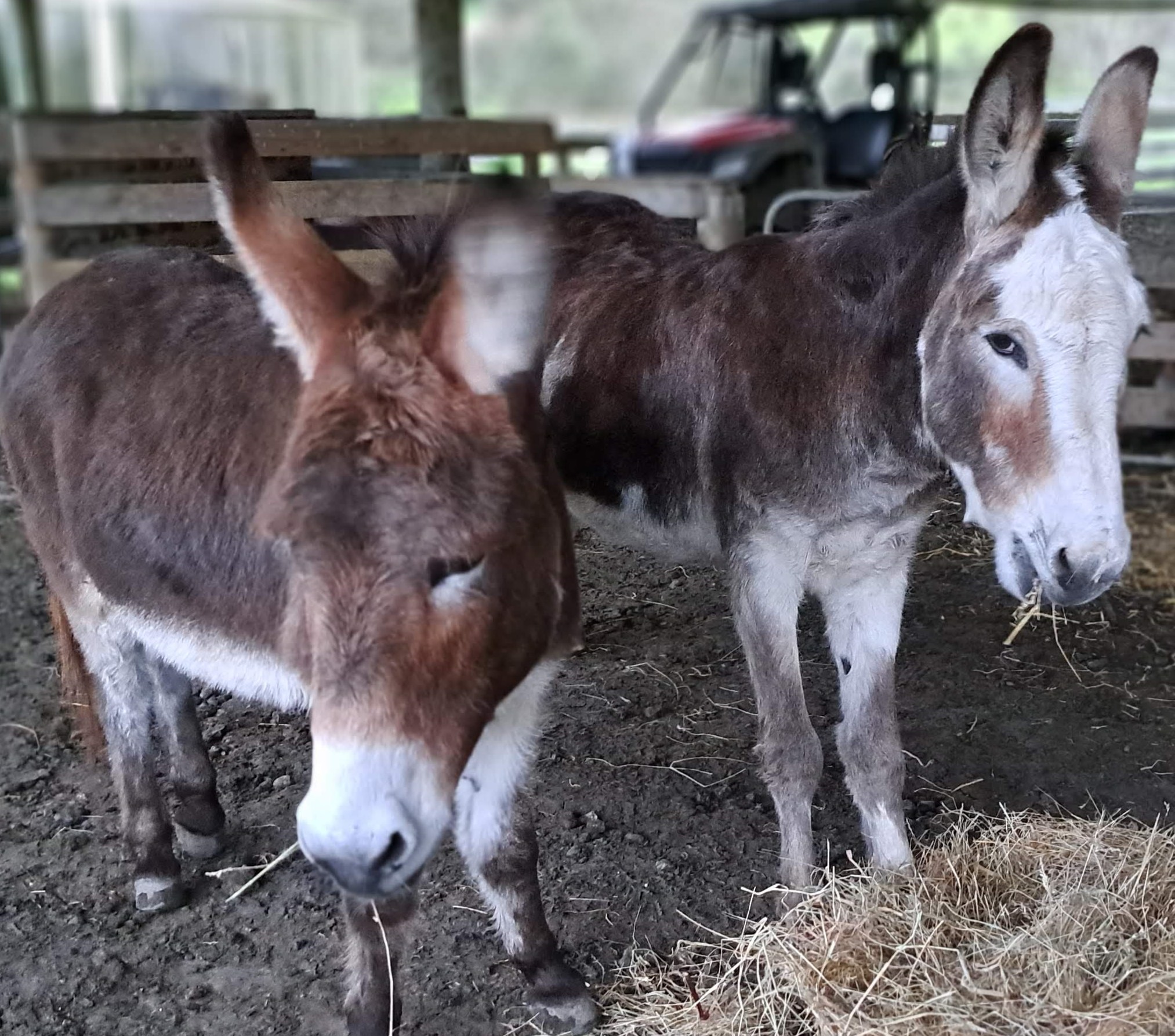 Mickey and Pele
Location: Wairarapa
Residency: Unknown at this stage
Pele and Mickey are 20-something year old geldings currently in the care of the Trust.  Pele has laminitis which is being treated.  At this stage we are unsure of how long Pele and Mickey will stay under the care of the Trust as it depends on Pele's recovery.